One thing that always irritated my condition as a TMJ sufferer was my headphones.
It's not something most of us think about, but when you're dealing with jaw tightness and pain, the last thing you want is a device clamping down on your face for extended periods.
And don't assume that earphones are a solution either!
Earphones can actually be worse, as they can exacerbate the ear pain caused by clenching.
In today's post, I thought I'd share with you my personal list of the best headphones for TMJ disorder currently available (and models I wouldn't recommend).
Obviously, this boils down to personal preference and each person's head size, but it should serve as a good guide.
Best of the best headphones for TMJ sufferers 🎧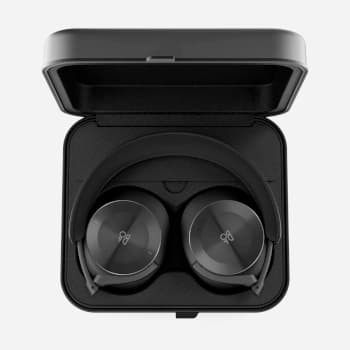 The best headphone brand for TMJ by far is Bang & Olufsen (the Beoplay HX is excellent).
Warning: these aren't exactly cheap. But they're absolutely worth every penny.
You can get pricing details here.
The pads are made of a high quality memory foam and cased in lamb skin leather. It's like wearing soft clouds on your ears which can actually even be soothing when your jaw hurts. They're also a high end brand and very stylish which is a plus.
If you're looking for an ideal pair of headphones that won't upset your TMJ any more than it is, get a pair.
Other excellent headphone options for TMJ
The beyerdynamic DT 1990 would be my second choice (but only if you upgrade the stock pads to the Dekoni Elite Velour or Mesh Leather pads).
You've got to change the stock pads to make them more comfortable - this is really important.
The Bose QuietComfort 35 II headphones are probably the best noise cancelling option, and they also have the option of pad replacement for softer pads (the stock pads on mine actually wore out quickly anyway).
For a large pad that distributes pressure (making it more comfortable for your TMJ), the AKG Pro Audio K712 PRO is quite good. The pads are huge on these and quite soft to wear.
If you want a cheap pair of headphones that don't irritate your TMJ, look at the SteelSeries Arctis 7X or for a much cheaper alternative, the HyperX Cloud II gaming headset. Both of these gaming headsets are very comfortable with low pressure of the jaw (just don't expect long life out of them!).
Headphones I would avoid
There are a few brands I've worn that I don't recommend for TMJ sufferers.
Stay away from Audio-Technica headphones (e.g. the ATH-M50X which are otherwise quite popular).
Also, any of the HIFIMAN models (e.g. Ananda, HE1000 or Arya). These are generally incredible headphones (some of the highest quality on the market), but they clamp down hard and I found them to be extremely uncomfortable on my sore jaw.
It's a shame because I love HIFIMAN headphones, but I just can't wear them.
Conclusion
As I said above, my personal choice of a headphone brand for TMJ is Bang & Olufsen (you can order a pair of Beoplay HX's here).
This choice comes down to the material of the pads and high end design.
It's generally a good idea to not use earphones at all, which is why I haven't listed any here. They always aggravate my TMJ and I'm yet to find a pair that don't (shoot me an email if you want to recommend a brand for me to try).